Welcome to Polowy Brothers' Stoneyard
Whether you are stocking your supply yard or creating your own personal landscape project, we have quality products at wholesale prices!
We are the third generation of our family-owned and operated stoneyard and take customer service to the next level, making our business and customer relationships as solid as a "ROCK!" We specialize in Garden Stone (Moss Rock) – great for waterfalls and retaining walls, as well as decorative landscaping stone. Bluestone and Long Island Landscape Boulders harvested in old abandoned quarries along the Delaware River – they are rare, rich in color and covered in lichen and moss, which makes them great for just about any landscape project. To contrast with these landscape stones, we create Custom Pool Coping, Walkway designs and Steps out of our New York Bluestone.
When combining our garden stone with our bluestone, you'll get a great outdoor natural look that compliment your surroundings. Homeowners and contractors can choose from our large selection of natural stone products at our stoneyard. We have everything you'll need to get your natural landscape project done quickly and correctly. Our staff is available to answer any questions and will guide you through each step of your project.
Landscaping & Construction Supplies
Contractors can choose from a large selection of products for use in their projects. Natural stone products include large boulders, stone for building garden walls, decorative stone mulch, paving stones, as well as landscaping and construction products, such as...
To match our top-quality products, we also provide an array of the following Services...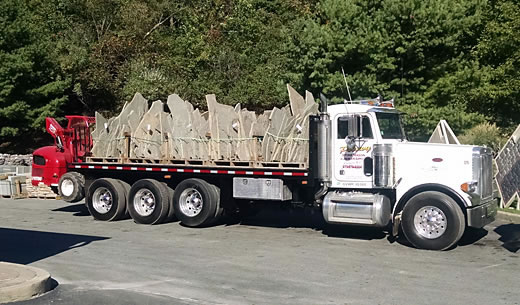 Polowy Brothers' Stoneyard in Lafayette, NJ is ready for 2022 with full inventory!
Call us today!